Press
Colchester Sun (April 11, 2018)
More than 100 people packed into the Colchester Meeting House late Saturday morning for a story hour led by two popular Vermont drag queens, the attendance dwarfing those seen at the regular Burnham Memorial Library story times.
Dressed in white bridal gowns and flowing veils, Emoji Nightmare and Nikki Champagne read children's books about gender identity and inclusion and led group sing-alongs as kids squealed with delight — a few of them dressed in costumes of their own.
"I have this book at home!" one child exclaimed when the drag queens held up the book "Red: A Crayon's Story," all about a blue crayon mistakenly labeled red.
Six-year-old Reid Lord-Audesey of Essex had read the book before, too, he said as he pasted a pink construction paper crown together. The group craft accompanied the book "King and King and Family," a tale of two married kings who adopt a child together.
Reid is a big fan of drag queens, his mother, Christina Lord, confirmed. They often talk about gender identity and social norms in their family, especially because some relatives are transgender.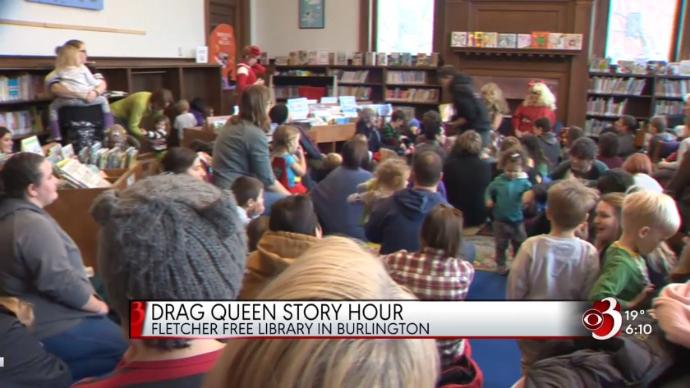 WCAX (December 16, 2017)
It's story time, with a twist. It brought laughs, and taught a little sign language.
The story time, hosted by the Fletcher Free Library in Burlington, featured local drag queens Emoji Nightmare, and Nikki Champagne.
"I basically saw that it was happening in New York, and Chicago, L.A. All these major metropolitan areas but it hadn't happened in Vermont," said Emoji Nightmare.
That is until now. More than 100 children and parents packed the library on Saturday.
"A lot of our conversations are around individuality but also community so how you can be yourself and show up in spaces and not conform into what everyone else is doing," said Nikki Champagne.
Read more >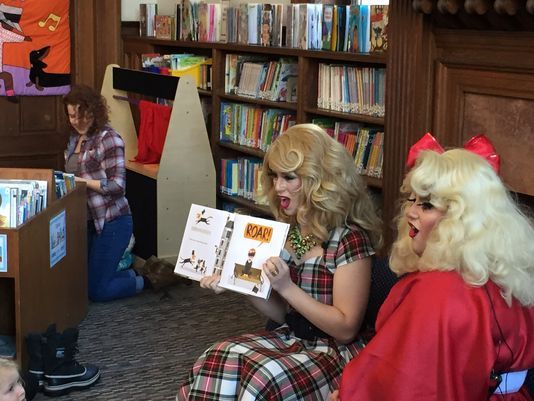 Burlington Free Press (December 16, 2017)
Champagne and Nightmare have led a handful of Drag Queen Story Hours in recent months, ranging from one that drew 14 listeners in Richmond to more than 70 in Cambridge and Saturday's triple-digit crowd in Burlington. The Fletcher Free Library event was also partly a fundraiser for Outright Vermont, the Burlington organization geared toward supporting gay, lesbian, bisexual, transgender, queer and questioning youths.
"People forget about all the activism queens do in the community," Champagne said after Saturday's reading session. Drag Queen Story Hour shows "that we're more than those dive-bar queens who lip sync to songs," according to Champagne.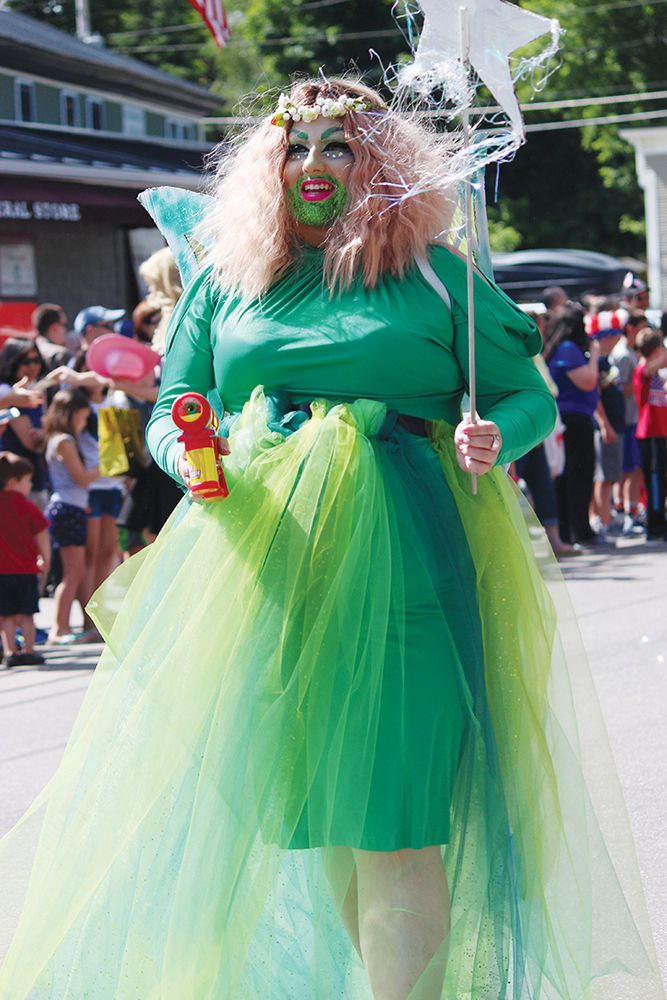 Stowe Reporter (November 16, 2017)
For 28 years, Outright Vermont has been working to build a safe, healthy environment for lesbian, gay, bisexual and transgender youth.
Every Friday night, the support group for queer and transitioning youth holds meetings in Burlington, Montpelier and Brattleboro where local teens can get to know more people like them in the area, share common stories, enjoy a meal and offer a hand up to those who are struggling with their sexuality.
For Justin Marsh of Cambridge — who also performs as drag queen Emoji Nightmare — those supports didn't exist in his community when he was growing up.
Seven Days (October 25, 2017)
It's not every day that two drag queens sashay up to the door of the Varnum Memorial Library in Jeffersonville, a village within the small Lamoille County town of Cambridge, for story hour.
On a Saturday afternoon last month, the flamboyantly dressed Justin Marsh, aka "Emoji Nightmare," and "Nikki Champagne" — real name Taylor Small — read to a crowd of 70 adults and children ranging in age from infant to octogenarian.
Marsh had pitched Drag Queen Story Hour to the small-town library, hoping he and Small would open some eyes about diversity and inclusiveness.
But the library's event announcement on Front Porch Forum days before the September 23 program enraged some community members, highlighting an apparent cultural divide in the 3,800-person town nestled below Smugglers' Notch.
Read more >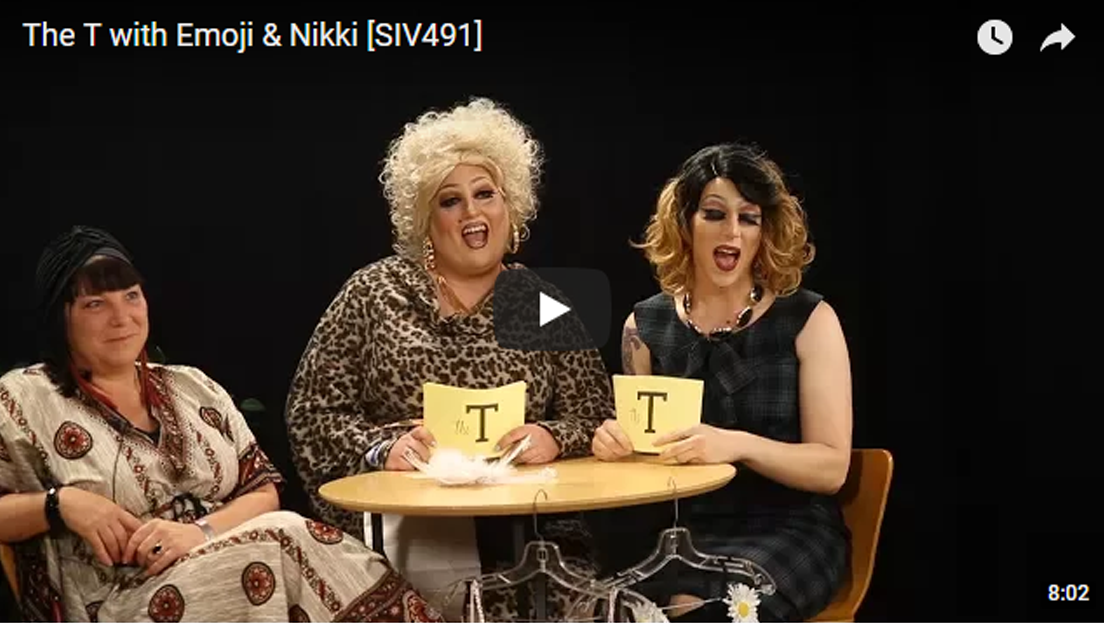 Stuck In Vermont (May 21, 2017)
The T with Emoji & Nikki is a new cable access show that airs weekly on Vermont Community Access Media (VCAM) in Burlington. Drag queens Emoji Nightmare and Nikki Champagne welcome eclectic guests to discuss arts and activism.
Eva went behind the scenes to talk the T with the ladies as they prepared for their show.